Final Harvest: Bush Farm prepares for last day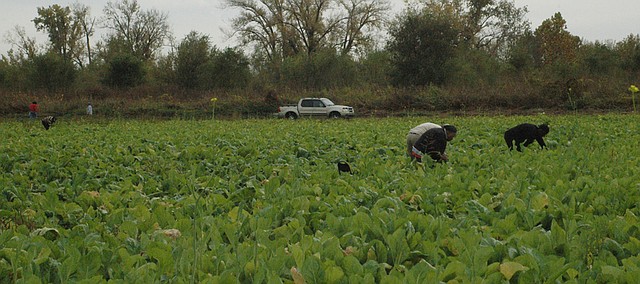 Rose Jean Oliver believes she has been picking greens at Bush Farm in Edwardsville for a good 40 years.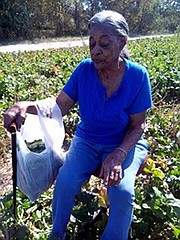 But last week, the 90-year-old, who has lived on 98th Street in Edwardsville her entire life, took a small stool and picked her last bagful of turnip and mustard greens at the farm's community picking field at 11131 Kaw Drive. With members of the Bush family deciding to retire, the last day for picking will be Oct. 31.
Chris Bush and her husband, Ray, have operated the Farm since 1980; Ray's father operated it for 40 years prior to that. From a stand at 11130 Kaw Drive, the farm sold produce farmed from various properties as well as greenhouse plants, and in the fall, they allowed the community to pick greens for $3 a bag and sweet potatoes for $10 a half-bushel from the field across the highway.
About a year ago, Bush and her husband announced they were retiring, first halting their summer produce operation, including their famous corn. They decided to offer greens and sweet potatoes one more year, though unfortunately, due to this year's weather, the sweet potato crop was only about one third of its usual size.
Bush said that on their busiest days, they have had 30 cars parked around the greens field, each car bringing four or five pickers. People come from as far as the Missouri cities of Independence and Harrisonville.
"A lot of them pick for their churches — they'll pick one for themselves and one for their churches. I have a man who picks two to three bags every day, keeps one for himself and gives the others to church. Once I open, I know I'll see him every day.
"Some of these people have been coming with their grandmother. I had a man the other day who was in tears, hugging me, saying 'I've come out here with my grandmother, with my mother, and now I come out.'"
Oliver's mother was a descendant of "Potato King" Junius Groves, so she grew up in a farming and gardening family, going to pick greens and other produce with her mother as child. She said she continued to pick greens at Bush Farm even as she aged, because "that's what I like to do for a pastime."
"We told her someone could pick them for her, but she wanted to pick her own," said her daughter, Janette Newton.
Marva Webb of Kansas City, Mo., has been picking greens at Bush Farm in Edwardsville for the last 10 years, ever since a friend told her about it.
"Since I'm almost 70 years old, it's a form of exercise to me, and you get to meet people," she said.
Webb said she knows some senior citizens supplement their income by picking and then selling the greens for a small profit, while others give it back to their community; she shares what she picks with six different families.
"Many families come out and pick and freeze it so they can eat on greens all year round," she said. "It was bad news when I heard they were going to retire. I'm glad they can retire, but what is the community going to do?"
Bush said their relationship with their customers and the community, and the knowledge that their children wouldn't be able to continue running the farm, made it hard to retire, but they knew it was time.
"Our bodies are worn out," she said. "It takes its toll. I'll miss all the people, talking to them. This brings a lot of city people out here, and it brings them back to their roots, growing up down south."
Bush said they hope to sell the property so they can leave an inheritance to their children, but in the meantime, the family will plant soybeans on the property. She said she was grateful for everyone who supported the farm over the years.
"The biggest thing is to thank people for buying local for 75 years," Bush said.