Basehor-Linwood, Bonner Springs show promise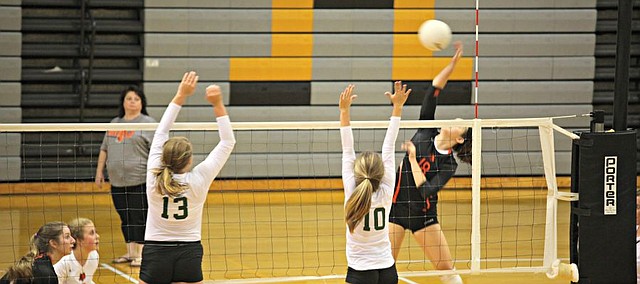 Basehor — With a senior-laden roster and plenty of varsity experience, Basehor-Linwood volleyball coach Amy Irvin certainly had high expectations for her team when the season began.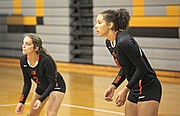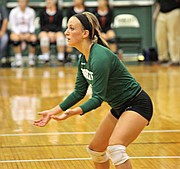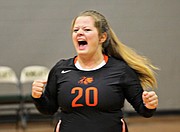 Now, eight matches into the schedule, Irvin is pleased with how her girls have performed, especially on Tuesday evening when the Lady Bobcats defeated Bonner Springs, Eudora and Baldwin on their home court.
The four teams convened for nearly four hours of volleyball, each testing their early-season acumen. It was a night that concluded in exhilarating fashion, as Basehor-Linwood pulled out a 30-28 win over Eudora and Bonner Springs topped Baldwin 27-25 in a pair of Game 3s.
"The last couple of years, we have had talent like you wouldn't believe," Irvin said. "It was those gritty games where you have consecutive points on their end here and there. We've worked a lot on getting out of those ruts, a lot of drills in practice. I just told them there are very few teams that would have come back [after losing the first game]."
The Lady Bobcats (6-2) began the evening with a 25-19, 25-16 triumph over Baldwin, fought hard for a gritty 25-22, 26-24 win over Bonner Springs and battled back for a 19-25, 25-17, 30-28 victory over Eudora.
"They played their butts off," Irvin said. "With three games, it comes down to whoever wants it the most. We played [Eudora] close on Saturday, too. We knew they were good. It was all out, every point, and they definitely earned it."
Bonner Springs (2-1) fared well against the rest of the field, too. The Lady Braves kicked things off with a 30-28, 25-16 win over Eudora, took a blow with the loss to Basehor-Linwood — their noted Kaw Valley League rival — and finished strong with a 25-15, 22-25, 27-25 victory over Baldwin.
"I loved our team chemistry," Bonner Springs coach Jan Madlock said. "I think a lot of our players have a sense of how they're going to play with each other. … These matches are important because they help us gauge what we need to work on in practice in order to be where we want to be at the end of the season. We talk about getting better every day, and we know we're a better team walking out of here than we were walking in."
Basehor-Linwood will be back in action at 5 p.m. on Thursday as they host Lawrence and Ottawa for a pair of matches. Bonner Springs, meanwhile, will return to the court at 5 p.m. on Thursday as they host Bishop Ward and Atchison.
---
Jon Poorman is the sports editor at The Sentinel and The Chieftain. Follow him on Twitter at @JonPoorman for all of the latest community sports news.