Bonner boutique combines shopping with day at the salon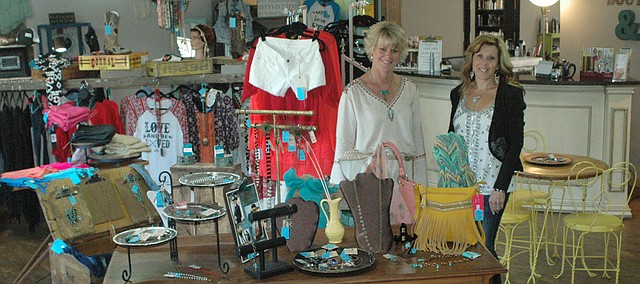 Rodeo Drive in Beverly Hills is known for its high-end stores, and a new salon and boutique in Bonner Springs is looking to put the "ro-dee-oh" in "ro-day-oh."
Candace Taylor, owner of the Rodeo dr. Boutique & Salon, said the name for her new business arose while she was with her daughter, Blaze, who competes in rodeos — the kind with horses — on the weekends.
"It just became a funny thing that we should open a place called Rodeo Drive, but it's really a pun on rodeo, because I go every weekend," she said. "But we wanted a place where people could come to shop, get their nails done, get a massage and get their hair done."
The boutique and salon, 134 N. 130th St., Suite D, opened earlier this summer to meet that goal, selling a mix of clothing and accessories as well as offering salon services.
Taylor, a Tonganoxie resident and Piper native, previously co-owned a business in Shawnee. When her business partner decided she wanted to focus on other things, Taylor started looking to move closer to home.
Taylor knew the owners of Little Joe's Asphalt, which had purchased the former ReMax building at Canaan Drive and Kansas Highway 7, just north of the K-7 interchange with Interstate 70. They spoke with her about their plans to spruce up the building, and she thought the location would be perfect.
"I have clients that come from Junction City, Lyndon; my clients drive from everywhere, and it's a great location — it's right off I-70," she said.
Taylor recruited her niece, Christy Turley, to run the boutique side of the business. She said they worked to find women's clothing lines that would appeal to all ages, yet aren't otherwise available in the area, including the Ali Dee clothing line and Corral cowboy boots.
"We want it to be stuff that you can't get anywhere else," Taylor said.
The salon currently has three stylists with space for two more and offers nail services. Taylor is looking to add a massage therapist soon.
Taylor noted that the "drive" part of the business's name was intentionally lower-cased to mimic the smaller letters in the real Rodeo Drive street signs, though she admits it has caused some confusion.
"It's amazing how many people call us the rodeo doctor," she said.
Stylists in the salon manage their own hours but the boutique is open 9:30 a.m. to 6 p.m. Tuesdays and Thursdays, 10 a.m. to 7 p.m. Wednesdays, and 10 a.m. to 4 p.m. Fridays. It also opens from 9 a.m. to 3 p.m. on the second and fourth Saturdays of the month to match the weekends that Flip KC is open in downtown Bonner.
The salon can be contacted at 913-721-1122 and found online at facebook.com/Rodeodrbs.