Face to Face: Linwood library director Mike Washburn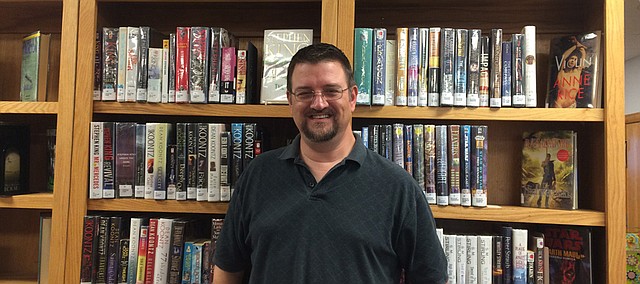 Name: Mike Washburn
Birthplace: Trenton, Mo.
Family: Fiancee, Robin Hastings
Occupation: Director of the Linwood Community Library
Dream job as a child: Washburn said he doesn't remember fixating on any one job.
"I don't really recall having a dream job," he said. "I probably bounced around all the typical kid things, like an astronaut, but that probably changed on a weekly basis."
Hobbies: Reading, playing video games, and woodworking.
Digging deeper: Washburn said he sort of fell into becoming a librarian.
He attended the University of Central Missouri, first selecting computer information science as a major, but he said he didn't make if far before realizing that wasn't for him, so he switched his major to history.
Meanwhile, he got a job working at the library in town. Washburn said when he graduated, he realized there wasn't much he could do with his history degree aside from going on to get a masters degree so he could teach history. Because he enjoyed his job at the library, he went on to get a job at the public library in Jefferson City, Mo., and ultimately decided to get a masters degree in library science from the University of Missouri.
His fiancee was hired to work at the library in Lawrence in 2013.
"After nine months or so of doing the long distance thing, I finally moved to this area," he said.
At the time, the Linwood director position was open, so Washburn applied. He wasn't successful the first time, ultimately getting a position with Donnelly College. But the Linwood library stayed on his radar.
"I really fell in love with the library and the way they were organized," he said. "So when the position opened up again, I applied again."
Washburn said he is still learning the ropes after starting on July 6, so he hasn't implemented anything new just yet. He said the biggest thing he'd like to try is improving the library's collection of genealogy and local history documents and resources.
"I'm thinking about ways we can organize it and make it more accessible and condensed," he said.