Basehor sophomore continues experience with Youth Symphony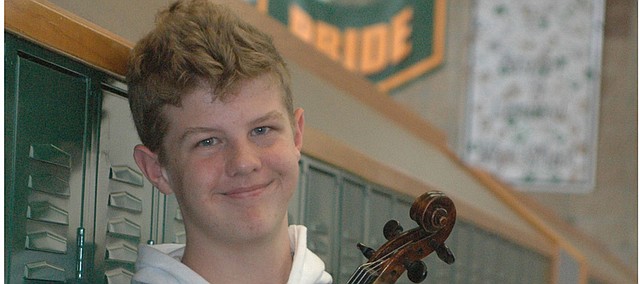 As a fourth grader, Tristan McGehee saw the appeal to learning an instrument like the violin.
"I knew it could play a lot higher, and it usually had the melody in songs, so I liked that," he said. "It made practicing things more fun."
He also may have been just slightly influenced by the thought of playing with his grandfather's locally renowned bluegrass band, The Fairmounters.
"He said if I could learn, I could play with them, which I do," McGehee said.
But for the past few years, McGehee also has been playing with a band of a different sort. The Basehor-Linwood High School sophomore has successfully auditioned for a second time with the Kansas City Youth Symphony, which accepts about 330 musicians from across the metro area each year to play in one of its four youth orchestras. According to the current roster, McGehee is the only student from Basehor-Linwood USD 458 and Bonner Springs USD 204 in the symphony.
McGehee first auditioned and was accepted into the orchestra in eighth grade at the recommendation of BLHS music instructor Paul Wilburn. He said he has enjoyed the expanded experiences the symphony offers.
"I liked that the music were a bit more advanced than what I'm used to, and hearing more than just my usual cellos and basses and violas that I practice with, more timpanis and hearing the other brass instruments, it just sounded really nice," he said. "We can do more with the music."
He also has enjoyed playing at different venues around the Kansas City area.
As he also is a member of the BLHS orchestra, McGehee generally practices two to three hours a week on top of BLHS rehearsals, private lessons and rehearsing with the Youth Symphony for two hours on Sundays.
He also still plays with the Fairmounters when he can, often with his 12-year-old cousin.
"Sometimes we'll play on stage with them, and if they have to take a break, we'll play a couple of songs," McGehee said.
Provided he can continue to be successful in auditioning, McGehee wants to remain in the symphony until he ages out at 18.
"It's a nice experience, getting to know some people, learn more about other instruments and new composers," he said.
He also thinks he will continue playing beyond high school and studying music.
"In a perfect world I'd like to do something with it," he said.
"All of the colleges he is looking at specialize in music," his father, Brandan McGehee, added. "Everything he has talked to us about, he wants to major in music and minor in something else to have something to fall back on… he's looking at Julliard and Princeton, some of the best music schools in the nation."