Showcase of sunflowers at Grinter Farms near Tonganoxie should be in peak bloom in coming days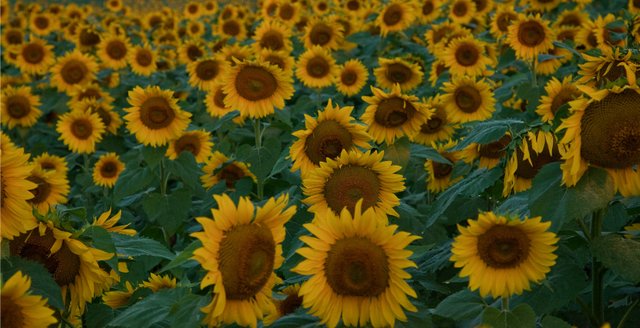 A local landmark that fills the countryside with a sea of yellow for a short spell each year soon should be buzzing again.
Grinter Farms again has planted its crop — roughly 1 million sunflower seeds — and the radiant colors of thousands of sunflowers soon will be on display.
The fields, which are a few miles south of Tonganoxie, attract many picture-happy tourists each year.
Whether folks are snapping pictures for family or engagement portraits or simply capturing the field's natural beauty, Ted and Kris Grinter's sunflowers are a popular destination this time of year.
Kris Grinter, on the Grinter Farms Facebook page, is estimating that flowers will be in peak picture position this weekend.
If people are unable to make it out in the coming days, the field still should be photogenic through the Sept. 12 weekend.
In a question-and-answer post Kris Grinter published on the Grinter Farms Facebook page she posed the question of whether the sunflowers would still be as picturesque later in the month.
"Magic 8 ball says 'Outlook not so good,'" she wrote on the Facebook post.
This year's crop is a bit west of U.S. Highway 24-40. Grinter goes on to say that 23900 Stillwell Road, Lawrence is not the nearest address, "but Google Maps thinks that it is, so plug that in. It'll get you here," she writes. She notes that for Mapquest users, 24154 Stillwell Road is a good bet for that mapping service.
But as Grinter advises, "If the flowers are blooming, you won't miss it."
Dogs are welcome to join if they like people and other dogs, and sunflowers are available for purchase. Red donation boxes are available. The suggested donation for each sunflower is $1.
Visitors also are welcome to take as many photos as they wish, though if anyone happens to be making a profit from the photos, a donation in one of the red boxes is welcomed and appreciated, as the Grinters estimate it costs roughly $10,000 to get the crop to the point of full bloom.
Grinter notes that there's no storefront associated with the sunflowers, they merely are in a field on farmland.
With that in mind, there also are no restrooms at the fields, so pit stops in Lawrence or Tonganoxie would be wise if needed.
As for parking, Ted Grinter cut into his soybean field and planted a long 40-foot-wide row of grass. People are asked to park facing east or west.
The fields rotate between this year's field and another just west of U.S. Highway 24-40 that can be seen from the road.
The fields have been the subjects of various publications and even served as a backdrop for a tourism campaign.
With all of the interest comes larger crowds each year. The Grinters hope visitors will enjoy the sunflowers again this year while also being cautious with the uptick in traffic on the country roads.
"Please be careful and look out for your fellow human being," Kris Grinter writes on the Facebook page. "And if you've never seen a field of blooming sunflowers, you may expect to be a little impressed."