Visitors flock to see sunflower sensation south of Tonganoxie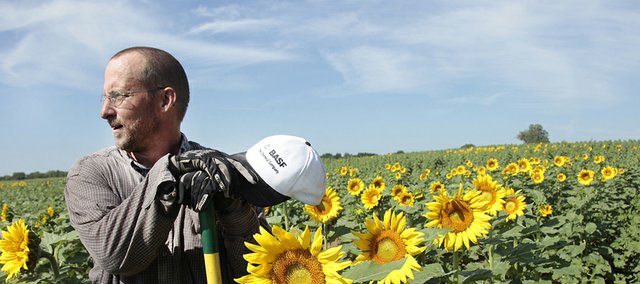 A row of cars is parked in a grassy strip near green soybeans at Grinter Farms.
Ted Grinter planted the grassy area for a makeshift parking lot of sorts.
Some 25 cars are parked on the grass Friday afternoon.
Many bear Kansas license plates, but there are others.
One vehicle is from Texas.
Another has Oklahoma tags.
California even has representation, as does Virginia.
Timothy and Nicole Owens have the Virginia tags.
Timothy now is stationed at Fort Leavenworth after a stint back east.
They are taking photos with their daughter, Alyssa, 3, and Jimmy, 9 months. Between a selfie and another photo, Timothy and Nicole comment on the vast field's beauty.
"We figured we had to get a photo of Kansas," Timothy said. "You're the Sunflower State."
Nicole said the family learned of the sunflower fields, which are a few miles south of Tonganoxie, through Facebook.
The social media platform was a common answer when asked how visitors learned of the seasonal and popular rural treasure.
Sarah Newberry traveled the 30 minutes or so from Johnson County to take some photos at Grinter Farms.
Daughter Ilaina, 2 1/2, came prepared: she was wearing a festive sunflower hair accessory.
"It's beautiful," Newberry said. "Classic Kansas."
The fields, between Tonganoxie and Lawrence just west of U.S. Highway 24-40 off Leavenworth County Road 27, have been bringing folks to the spot for several years.
Ted Grinter planted roughly 1 million sunflower seeds this year, and many visitors have converged on the fields in recent days.
Kris Grinter, Ted's wife, has kept people updated on the Grinter Farms Facebook page of when the flowers are in prime viewing time, which this year happens to be this weekend. She expects the optimal photo time to continue for the next few days, possibly into next weekend.
Visitors, though, don't just take photos at the farm.
For a suggested donation of $1 per sunflower, people can pluck a plant. Friday, children were carting single sunflower plants twice their size to the family vehicle.
For some, the visit to the countryside of sunflowers isn't a first-time experience.
Students from Kansas University made the trip out to the fields.
Friends Caroline Savage, Amanda Moore, Caroline Leary, Liz Getto, Rachel Norris and Maggie Edmondson paid the fields a visit on Friday. The classmates hail from the Kansas City metro, Salina and even St. Louis.
Some were here last year but saw the fields when they were at the end of the blooms.
This year, for the first-timers and the seasoned sightseers from KU, it was a worthwhile trip.
Getto said it was wonderful having "something this beautiful so close to our campus."
Visitors can head out to the fields whenever they want to get some optimal photos. There are no set hours and, as Kris Grinter notes in social media, no restrooms at the field.
So grab your camera and make the necessary pit stops before heading out to the seasonal gem.
For more information about the fields, visit the Grinter Farms Facebook page.