Bobcats beat Bishop Ward, remain undefeated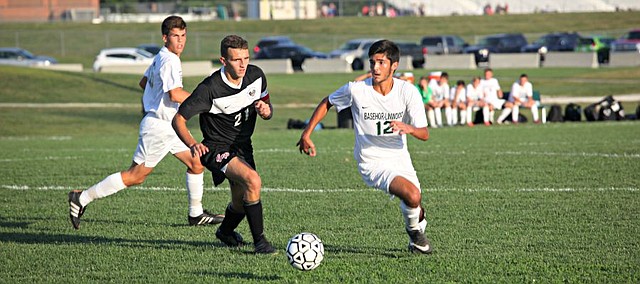 Basehor — The Basehor-Linwood soccer team raced out to an early lead against Kaw Valley League foe Bishop Ward on Tuesday evening, and the Bobcats never looked back on their way to a convincing 4-1 victory on their home field.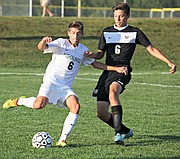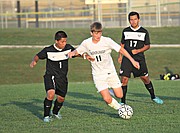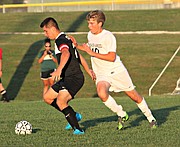 Junior forward Quinton Roscoe led the way with three goals, and junior defender Chandler Carey added another as Basehor-Linwood improved to 5-0 this season.
"I liked how we moved the ball really well, and we possessed the ball really well," Bobcats coach Erik Jones said. "We had tons of scoring opportunities. We just didn't get on the scoring end of all of them."
Basehor-Linwood got the scoring started quickly, as sophomore forward Jackson May connected with Carey on a corner kick from the left side of the field. May launched the ball into the box, and Carey was there to deliver the header and 1-0 lead just five minutes into the game.
"We're very good on set pieces — corners and resets and stuff like that," Jones said. "We spend a lot of time on them, so we execute them pretty well."
The Bobcats found the back of the net again in the 14th minute when Roscoe rocketed a shot into the back right corner from point-blank range. The third and final tally of the first half came with just 18.6 seconds on the clock. May delivered a corner into the box, and Roscoe was there to put it away with a header for the 3-0 advantage.
"Quinton is just a blue-collar player," Jones said. "He works for everything he gets. It was good to see him start getting goals. He had a couple [Monday] night, too. Hopefully we can get that momentum going for him because he's a pure goal scorer."
Despite a flurry of scoring chances throughout the second half, the Bobcats were only able to manage one more goal. Roscoe notched his final goal of the game, giving him a hat trick, with 4:44 remaining. Bishop Ward's goal came on a breakaway with 17.1 seconds left to play.
"It's just a little lack of focus, lack of concentration," Jones said of his team's second half. "We need to get better at that because we might have not have those opportunities in other games. When given those opportunities, we need to make sure we can finish."
The Bobcats will be back in action at 6 p.m. next Monday, Sept. 21, as they travel to take on Sumner Academy.
---
Jon Poorman is the sports editor at The Sentinel. Follow him on Twitter at @JonPoorman for all of the latest community sports news.