Bike Show honors Kobi's founder, benefits Vaughn-Trent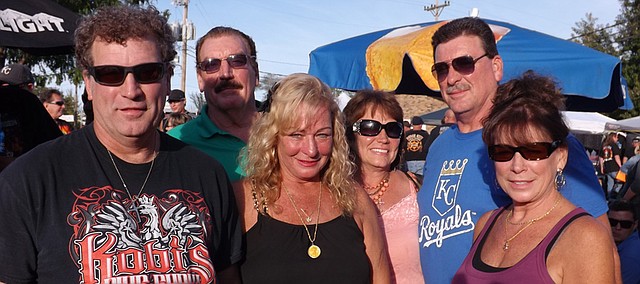 The 23rd Annual Kobi's Bike Show filled an important need for the Bonner Springs community, while at the same time honoring the late "Mama Kobi," who left behind a big hole.
Margarete Kobialka, who opened Kobi's Bar and Grill, 113 Oak St., with her family in 1986, died Aug. 14. Known in town as "Mama Kobi," this year's bike show honored her with its purple theme — her favorite color — as it raised funds for Vaughn-Trent Community Services.
"It was our tribute to Mama, because she's been to every single one for 23 years," Vicki Kobialka-Freeman, Kobi's current owner, said of the event. "And customers anad people just loved her. There's going to be big shoes to fill, and I hope I am up to it."
In recent years, the show has benefitted a specific family or individual in great need in the community. Kobialka-Freeman said they chose Vaughn-Trent this year knowing of their need and ability to support several people in the community.
"They're local and they really, really need it," she said. "They help a lot of local people, but a lot of people don't even know what Vaughn-Trent is."
The bike show raised about $3,600, though some funds are still being finalized. Rachael Nickerson, director of Vaughn-Trent, said the donation came at a good time. While food assistance requests recently have been lower than usual, utility assistance requests have been up. The funding it receives through the United Way for utility assistance was recently cut back to $750 per month, and assistance requests last month totaled $1,450.
A grant the organization recently received from AT&T has helped, but Nickerson said those funds are about to run out.
"The end of the year is going to be pretty rough for utilities," she said. "We're either going to have to take funds out of the operating budget or tell our clients we're cutting off utility assistance."
Vaughn-Trent also is undergoing some office renovations to better organize the space. The organization received a grant through Wyandotte County earlier this year to provide fresh produce and dairy items to clients, but it needed space for a commercial refrigerator to store things like eggs and milk. The organization also formerly had temporary walls around desks near big, front windows, so now it is building walls to create two offices in the back and moving the food pantry storage toward the front of its space.
"We have found both an electrician and a contractor who are volunteering their services, which is awesome because we don't have any money," Nickerson said. "... The main goal of this was to give our clients a private office here instead of doing client intake up front in the window; it was just not appropriate when people are talking about their finances and personal life needs."
The fall begins Vaughn-Trent's busy season; it is launching its annual fund drive and next month will begin taking applications for its annual Christmas baskets.