Concerns spread over announcement of Thriftway closure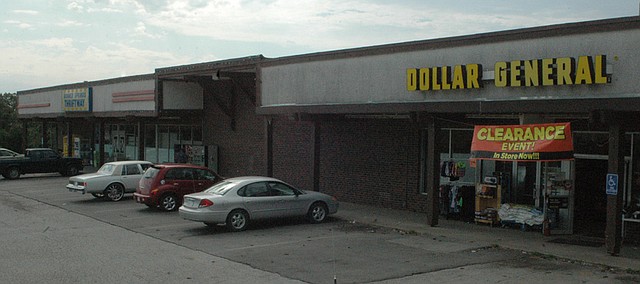 Rumors have been swirling that a major component of downtown Bonner Springs soon will be no more, and on Wednesday, signs seemed to confirm them.
Many people in town have heard that the Thriftway, 112 Oak St., will soon close — some go one to say that Dollar General, housed in the same building, also will not renew its lease. The statement has been made by downtown business owners on social media, and on Wednesday, a "store closing" sign was posted outside the Thriftway. On Monday it came up at the Bonner Springs City Council meeting.
Ward 1 Councilman George Cooper brought up the rumors at the end of the meeting during the council comment period, never exactly referring to the Thriftway but saying he was "bummed about the situation downtown."
"A lot of people that I've talked to, you talk to the masses… you get that it's our fault," Cooper said. "Well, it's really not, but I can see where we could have done some more. But now we're going to lose something that's very viable to downtown, and I don't think it'll ever come back."
But City Manager John "Jack" Helin said there was work "going on in the background." In the spring, the city approved support of an application from the owner of the building and Thriftway, Kyu Lee, for a Community Development Block Grant from the state.
Lee applied for the grant program's Downtown Commercial Rehabilitation grant maximum of $250,000, with Lee providing a 25 percent match, to complete roof repairs and internal maintenance to the building, which was constructed in the 1960s and has fallen into disrepair under a previous owner.
After a delay in the announcement of grant awards, the city recently was informed that Lee was awarded the grant, however, Lee opted not to participate.
"We're still working on it," Helin said Monday. "… We're working; nothing's a done deal at this point."
"It's as important as anything could possibly be," Mayor Jeff Harrington added. "I know that there are a lot in the city doing everything imaginable — even more."
Harrington added following the meeting that CDBG officials indicated that should the business change hands, a new owner could still make use of the grant.
"The last I heard, (Lee and city officials) were still trying to find other options," Harrington said.
The Chieftain was unable to contact Lee prior to publication.
The Thriftway has provided some important services for those living in the downtown area. Rachael Nickerson, executive director at Vaughn-Trent Community Services, said that many Vaughn-Trent clients rely on the store because they don't have cars and it is the only grocery store that is within walking distance.
She said many clients have told her Thriftway no longer offers its instant utility bill pay service for gas and electric bills. The Bonner Springs Walmart offers the service but charges $1.50 for same day pay and $1 for payment within three days; the service was free at Thriftway.