Face to Face: Basehor chiropractor Scott Runnels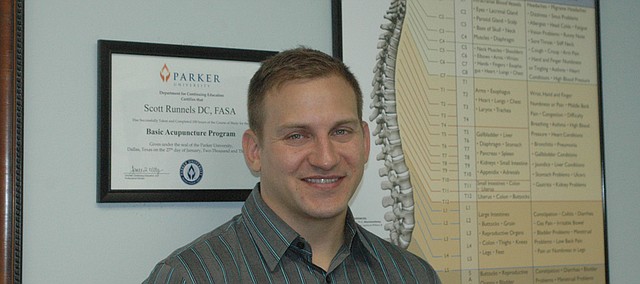 Name: Scott Runnels
Birthplace: Kansas City, Kan., though he grew up in Basehor
Family: Fiancee, Jessica Hopkins, and a 9-year-old son
Occupation: Owner and doctor, Runnels Chiropractic North, 15510 State Ave., Ste. 10B, Basehor
Dream job as a child: Train conductor.
Runnels ended up working in construction first, but he then worked as a conductor with the Burlington Northern Sante Fe Railroad for about a year before recession-related layoffs forced him to choose a new profession.
"My grandfather was a railroad engineer, so it was cool for me, kind of following in his footsteps," Runnels said.
Hobbies: Exercising, helping coach the Basehor-Linwood kids' wrestling program, and drawing on his construction background to do home improvement projects.
Digging deeper: Runnel's Chiropractic North is the only location of Runnels' practice — the name is a nod to Runnel's brother, who has worked as a chiropractor since 2001 and currently has a practice called Runnels Chiropractic in Cassville, Mo.
"We're not in any way affiliated business-wise, but because he kind of helped guide me toward chiropractic … I just thought I'd pay a little homage to him," Runnels said.
When Runnels was deciding what to do following his time with the railroad, he considered chiropractic because he enjoyed helping people and placed a high priority on living a healthy lifestyle.
"It turns out this kind of is my dream job, because I love helping people, it's not invasive, it's preventative, and it can help people with acute problems," he said.
Runnels graduated from Cleveland Chiropractic College last December, and when choosing a location for his practice, which opened June 23 at Runnels decided he shouldn't look further than his home town.
"It just made the most sense for me to come back here," he said. "I love the town. I really like the area; it's close to Kansas City and Lawrence but you still have that country feel."
Additionally, his family is already known in the Basehor business community. His mother works at Citizens Bank in Basehor, and his uncle has a barber shop on 155th Street.
Because all of his mentors are "old school," Runnels said he is a very hands-on chiropractor and doesn't use machinery as much, but he does offer acupuncture.
"Which is not always considered traditional, but it's very helpful in conjunction with chiropractic," he said.
Runnels Chiropractic North can be reached at 913-728-2374 and found on Facebook at facebook.com/runnelschiropracticnorth. It is open 9 a.m. to 1 p.m. and 3-6 p.m. Monday through Thursday and 9 a.m. to 1 p.m. Fridays.