Bonner Springs tops Basehor-Linwood in thriller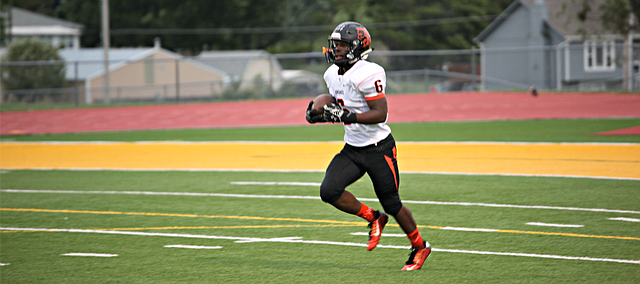 Basehor — Bonner Springs was without standout quarterback Connor Byers on Friday evening against Kaw Valley League rival Basehor-Linwood. Needless to say, the Braves needed someone to step up in his absence.
Enter Marcell Holmes.
Holmes rushed for 216 yards and three touchdowns on 20 carries as Bonner Springs defeated the Bobcats 27-21 in a thrilling gridiron battle. Making his first career start, sophomore quarterback Coleton Oakes made some key plays throughout the game, including a 51-yard touchdown pass to Caden Henley in the third quarter. Byers was sidelined with a stinger that he suffered in last week's win against Baldwin.
"It was attitude," Bonner Springs coach Lucas Aslin said. "The kids battled. No. 6, Marcell Holmes, brought up all the energy and made up for a lot of offense we didn't have with Byers out. Coleton Oakes did a great job coming in. He threw some good balls, and he's never started a game in his life at the varsity level. He did a great job, and it's just nice to see."
After a mostly stagnant opening period, Basehor-Linwood got the scoring started as the first quarter clock expired. Senior fullback Austin Ettinger plowed up the middle for a six-yard touchdown run, giving the Bobcats a 7-0 lead. Ettinger finished with 66 yards on 15 carries.
Holmes ran the ensuing kickoff back to the house, but the return was nullified by a block in the back penalty. After picking up a couple of first downs, a high snap went over Oakes' head, and Basehor-Linwood's Nick Fisher was there for the recovery at the Braves' 18-yard line.
The Bobcats worked the ball down to the one-yard line, and on fourth and goal, Jahron McPherson scored to give Basehor-Linwood the 13-0 advantage with 6:54 to play before halftime. McPherson finished with 59 yards on nine carries.
"This was most physical we've played all year," Basehor-Linwood coach Rod Stallbaumer said. "I was very happy with the way we came out and ran the ball and played a physical brand of football for the first half."
The Braves had prime opportunities to cut into the lead later in the quarter, driving the ball inside the Bobcats' red zone twice. However, the first trip ended with a McPherson interception, and the second concluded with a missed 30-yard field goal attempt as time expired.
The second half, however, belonged to Bonner Springs. Oakes and Henley connected on their long touchdown pass with 5:24 to play in the third, and the Braves took a 14-13 lead early in the fourth on an explosive 74-yard touchdown run by Holmes.
"He's got great vision, and he's fast," Stallbaumer said. "The guy can accelerate on a dime, so when he hits those cutback lanes, he can turn it on. When he gets free, it's tough because we're not used to seeing that kind of speed, and it affects the angles for our defenders."
Basehor-Linwood answered with just 5:03 remaining when Justin Phillips tossed a 33-yard touchdown pass to Eric Scott. The Bobcats converted the two-point conversion on a jump ball to Scott, giving them a 21-14 advantage.
Holmes showed off his speed again on Bonner Springs' next possession, breaking off a 49-yard jaunt down the right sideline. Just a handful of plays later, Holmes found himself in the end zone for a second time, scoring on a direct snap from the one-yard line. That score tied the game at 21 and left Basehor-Linwood with 3:03 to go for the win.
On the Bobcats' ensuing possession, Phillips was picked off by Michael Amayo. But Oakes gave it right back when Bonner Springs took over, throwing an interception to Fisher. Bonner Springs' defense then made what was perhaps the play of the game. Linebacker Dustin Hopkins jumped in front of another errant throw from Phillips and returned the ball down to the Bobcats' 27 yard-line.
"We knew they liked to sprint out a lot," Aslin said. "We saw that on tape, and they do it every time they're in that formation. There were a couple of times earlier in the game that we didn't adjust to it very well. We knew we were going to blitz the backer off the edge, and Hopkins just jumped it. I'm going to give him crap about not scoring, but he did a great job."
On the very next play, with just 29 seconds on the clock, Holmes raced down the right sideline once again and gave the Braves a 27-21 lead. Bonner Springs squibbed the ensuing kickoff and recovered to end any potential threat to their victory.
"The kids played hard, and it was a fun game to watch," Aslin said. "We haven't had a battle yet. You never know what you have until you have a battle. We knew they were going to bring it. This is their Super Bowl. Going in with our backup quarterback and coming away with a victory, that's pretty awesome."
Bonner Springs will be back in action at 7 p.m. on Friday as it plays host to Lansing. Basehor-Linwood, meanwhile, will play at 7 p.m. on Friday at Turner.
---
Jon Poorman is the sports editor at The Chieftain and The Sentinel. Follow him on Twitter at @JonPoorman for all of the latest community sports news.