Champions of Change: Bonner Springs High student, school resource officer visit White House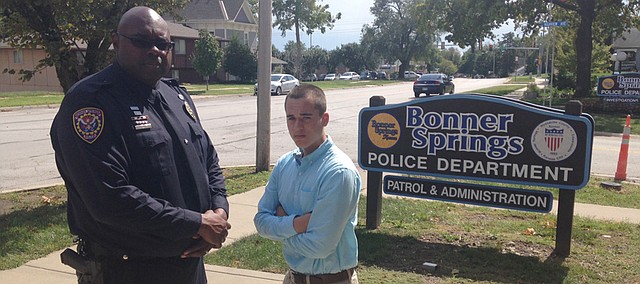 Blake McMahan can remember the exact moment he decided he wanted to be a police officer.
As a "staff kid" at Bonner Springs Elementary, he would stay long after school while his mother finished her work. Sgt. Mark Zaretski — now Bonner Springs chief of police — was often at the school and took McMahan under his wing.
"He took me to his car and turned his lights on and everything, that's when I fell in love with law enforcement," McMahan said.
Now a senior at Bonner Springs High School, McMahan is the president of the school's Criminal Justice Club, part of its Criminal Justice Program, now in just its second year. He has worked closely with BSHS School Resource Officer Anthony Davis to grow the club and program from 15 students last year to 35 this year and improve his classmates' views of police.
"So all my experience with the police department and knowing something about law enforcement is me able to help my peers at Bonner Springs High School fulfill their dreams of going into law enforcement," McMahan said.
And it's not just the local community that has taken notice. On Monday, McMahan and Davis were among seven pairs of young people and law enforcement officials honored at the White House as Champions of Change.
The White House has recognized "Champions of Change" in many different areas, and this round was to recognize those who are building bridges between youth and law enforcement, while improving public safety. Zaretski said police officials were told that they were selected from several hundred nominations sent in for the award. Davis and McMahan will join awardees from Connecticut, Maryland, North Carolina, Oregon, Texas and Wisconsin.
Davis and McMahan got the chance to meet Vice President Joe Biden prior to taking part in panel discussions among the honorees. Biden also gave a speech to kick off the panel discussions, which McMahan said was impressive.
"He didn't have a prepared speech — he talked from his heart, and that's what me and Officer Davis did, too," McMahan said.
Following the panel discussions, the honorees also got to bowl in the White House bowling alley.
McMahan said overall, he felt he and Davis represented Bonner very well, and he was impressed by the leadership of the other honorees, which drove home the fact that he and Davis have been great leaders, as well. He said the overall message was the need for a relationship of trust between police and the citizens in order to create a safe community.
"People have to respect the police and police have to respect the people," McMahan said. "So I feel like what me and Officer Davis's job is now is to comeback and help all the other communities in our area."
Davis became the school resource officer in the 2013-14 school year, and last year, he joined BSHS teacher Justin Howe to help teach criminal justice classes for the school. Under his leadership, McMahan and Wayne Cornwell were among the top three scorers in the Kansas Skills USA Criminal Justice competition last year.
Davis said he was working to fulfill Zaretski's direction to represent the police department in a positive way, though he admitted it was difficult at first.
"At first when you look at me, I'm intimidating looking," Davis said, referring to his 6-foot-9 frame that has earned him the nickname Hightower. "But once the kids started talking to me, they knew I'm a good person."
Davis's influence could be seen after his first year, when counselors did a career survey and found that law enforcement was one of the top areas of interest. McMahan said his positive influence has only grown since then.
"In this reality now, a lot of people don't like law enforcement," McMahan said. "Officer Davis, he shows that all police officers aren't bad. If you have a shield and a gun, it doesn't mean you're a bad guy, it means you're a leader, you're here to help the community. When we invite Officer Davis to come in and speak, all these kids are like, 'Wow, this could be a good gig.'"
McMahan and Davis also credit Howe's efforts to bring in expert speakers from DEA, US Marshall, ATF and FBI agents to a judge from Lee's Summit and various attorneys.
"It's not all about law enforcement; the Criminal Justice Club is about getting people in the path of criminal justice," McMahan said. "We have people who want to be attorneys, some people that want to be judges, federal officers."
Zarestki said when they learned about the Champions of Change, it just made sense to nominate Davis and McMahan via the Criminal Justice Club, which has benefited the police department beyond just improving teens' understanding of the police force.
"That's a great recruiting tool for our department to get young men and women, like Blake, who grew up in Bonner Springs his whole life, to get Bonner Springs youth interested in becoming Bonner Springs police officers," Zaretski said.
McMahan, who spent 160 hours over the summer shadowing Bonner Springs police for his senior project, said he is eager to change negative perceptions of police officers.
"This is probably the best part about us doing this at the White House, is to show everybody that law enforcement is here to help us, and we have to let them help us; that's the key," he said. "We have to let them do their job, and their job is to protect and serve us, and that's the best part about being in law enforcement, is helping people."
A video of the Champions of Change event can be viewed on the White House's YouTube channel, https://www.youtube.com/watch?v=WpQ8yZC3iI8. To learn more about the White House Champions of Change program, visit whitehouse.gov/champions.