Retiring nurse last original employee of Bonner nursing facility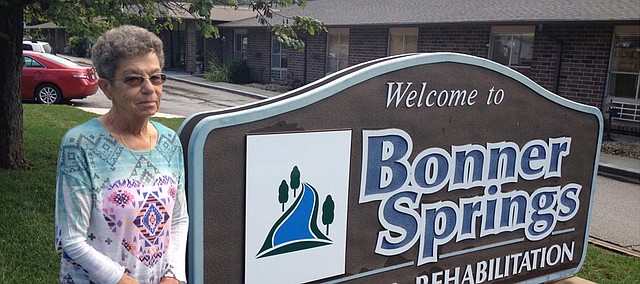 The last original employee to open Bonner Springs Nursing and Rehabilitation has finally bid the facility farewell.
Basehor resident Judy Bettis retired Sept. 13 after nearly 36 years at the facility, 520 E. Morse Ave., outlasting all other employees and several different management companies.
"I enjoyed it," she said. "That's what kept me here is the residents; we had several residents here for a long time. And the staff; I've enjoyed working with the girls that I've worked with."
Bettis attended Kansas University's Florence Cook School of Practical Nursing right out of high school, completing its year-long program in 1963.
"It was when the white uniforms, white hose and white hats were the official dress," she said. "It was amazing when they finally got to wear scrubs; I couldn't believe it."
Bettis worked in the cardiac unit at Bethany Hospital and then completed a nine-and-a-half year stint in the U.S. Air Force before getting the job in the Bonner Springs nursing facility.
Bettis began at the Bonner Springs nursing facility when it opened in January 1979, working both at the current facility and the building across the street, which is now Maple Ridge Senior Apartments. She began on the evening shift before moving to days, sometimes on 12-hour shifts.
For most of her career, Bettis has used paper charts, but the current owners of Bonner Springs Nursing and Rehabilitation, Texas-based Preferred Care, have brought the facility up to date with technology — in part prompting Bettis's decision to retire completely.
"I just have no desire to do computers," Bettis said. "I'm from the old school; to me, it just takes away from hand-to-hand caring for the patients."
About five years ago, Bettis decided to slow down to just eight days a month, eventually slowing to just four days a month in the past year. But it was hard to leave the facility she knew so well.
"I swear my car knew how to come (here) without me even waking up in the mornings," she said.
Having already traveled early in life, Bettis said she just plans to relax and enjoy walking her dog in retirement.