Face to Face: Clark Middle School's Ellen Kalousek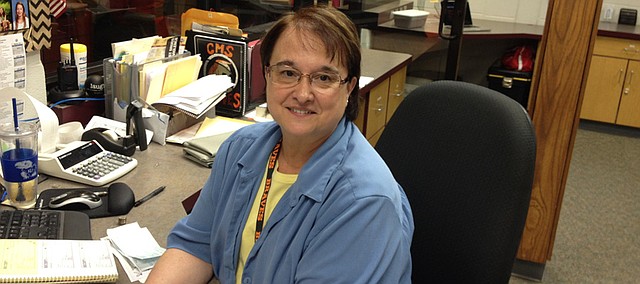 Name: Ellen Kalousek
Birthplace: Kansas City, Kan.
Family: Husband, Reed; grown son, Josh
Occupation: Office manager/bookkeeper at Clark Middle School
Dream job as a child: Nurse.
Kalousek wanted to follow in the footsteps of her older sister, who was a nurse, but soon discovered a problem with that career choice.
"I couldn't do the blood; I didn't like blood," she said. "So I had to give that up."
Hobbies: Kalousek enjoys jigsaw puzzles and computer games as well as playing piano.
Digging deeper: With her dreams of becoming a nurse squashed, Kalousek married her high school sweetheart and settled in Bonner Springs, where her father was originally from and where he owned an heating and air conditioning business.
"After I married my husband, he liked Bonner, and that's why we moved out here," she said.
She worked at a car dealership for the first 12 years of her career. She knew Bob Clark, then the principal at the middle school, when the bookkeeper position came open in 1988, so she applied and has been at the school ever since.
"I love working here," she said. "I love being around the kids, I love being around the faculty and I love working with Mr. (Rick) Moulin. He is a joy to work with. I just love it here; every day is different."
Most people likely know that Kalousek is a twin, but some may not know that she helped determine her twin sister's career path, at least in part. Her sister first joined her at the car dealership, and later joined her at Clark Middle School, where she is now the media specialist.