Ted Eugene Masters Sr. 1941 - 2008 Bonner Springs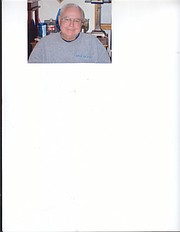 Ted Eugene Masters Sr.
1941-2008
Bonner Springs
Ted Eugene Masters Sr., 66, Bonner Springs, died Feb. 3, 2008, at the University of Kansas Hospital from heart failure. Visitation will be from 5 to 7 p.m. Wednesday at the Porter Funeral Home, 1835 Minnesota Ave., Kansas City, Kan. Services will be at 10 a.m. Thursday at the First Christian Church, 148 N. Nettleton, Bonner Springs.
He was born Feb. 20, 1941, in Kansas City, Mo. He lived in the Kansas City area for his entire life. He graduated from Wyandotte High School in 1959. He married his wife, Janice, on Sept. 1, 1961, at Calvary Baptist Church, Kansas City, Kan., where he served as deacon. He was a member of the First Christian Church and Westgate Masonic Lodge. He worked for General Motors Assembly Division starting August 1961 as a clerk in the Specifications Department. After 37 years of service he was general superintendent of the Trim Department.
He was said to be "fun to work for and would twist and needle guys to get jobs done to the very best extent." Further, he said he only used the computer for production numbers; all he said he needed was his "Big Chief Tablet" and a No. 2 pencil. He loved tending his yard and pool and took much pride in doing it meticulously.
He was preceded in death by his father, Ted Masters; his mother, Ruby Masters; and his sister, Martha Masters. He is survived by his wife of 46 years, Janice; a son, Ted Jr., his wife, Marcy, and their children, Jake, Kale, Kent, Meridith and Natalie, of O'Fallon, Ill.; his daughter, Melissa, and husband Mike Sadrakula and their children, Quinn, Gage and Grant of Basehor KS; Mickey of Berlin Center, Ohio, and their children Brandon and Blake; a sister, Carol Meggs of Gardner.
The family requests donations to the Kansas City Scottish Rite Foundations, 332 E. 1st Street, Wichita, KS 67202-2402. (Condolences may be expressed at: www.porterfuneralhome.com. Arrangements: Porter Funeral Home & Crematory, 1835 Minnesota Ave., Kansas City, KS (913) 621-6400)

Contact Porter Funeral Home, Kansas City, Kan. by phone: 913-621-6400