Rev. Gene Willcut 1924 - 2008 Ottumwa, Iowa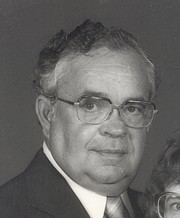 The Rev. Gene Willcut
1924-2008
OTTUMWA, Iowa
The Rev. Bernard Gene Willcut, 83, of Ottumwa, died at 4 a.m. Feb. 14, 2008, at Ottumwa Regional Health Center. Services will be at 2 p.m. Wednesday at the Tabernacle Baptist Church in Altus, Okla., with burial in Altus City Cemetery.
He was born Aug. 16, 1924, in Carbondale, Ill., to Richard and Ollie Walter Willcut. He married Dorothy Mae Sheehan Oct. 28, 1944, in Olustee, Okla. In his early years, he worked for Steffens Milk Co. in Altus, Okla., and then worked many years with National Biscuit Co. (Nabisco) before dedicating his life to Christ. Mr. Willcut was a deacon and taught Sunday School for many years at Tabernacle Baptist Church in Altus. It was there that he was called to be a missionary to Mexico. In 1957 the Willcuts entered Baptist Bible College in Springfield, Mo. After graduation in 1960, he pastored in Bonner Springs for 2 1/2 years.
Gene, Dorothy, Kathy and Carl then moved to Mexico City for language school. After one year, they moved to Linares, Nuevo Leon, Mexico, and for the next 31 years he established many churches and missions in the Linares area and Sierra Madre mountain villages. While on the mission field, he trained many young national pastors who are continuing the works he started.
Due to health concerns, Gene and Dorothy retired from the mission field and resided in Altus, Okla. from the mid 1990s until August of 2007. They relocated to Ottumwa, Iowa to be cared for by their daughter. At Mr. Willcut's request, he will be returned to Altus, Okla. to be buried next to his son in Altus City Cemetery.
Surviving are his wife, Dorothy; two daughters, Terry Clark of Bonner Springs; and Kathy Hucks of Ottumwa; a daughter-in-law, Arlene Willcut of Altus, Okla.; 10 grandchildren, Bobbi Clark of Lawrence, Kan.; Christi Letzig of Tonganoxie; Don Clark Jr. of De Soto; Heath Clark of Bonner Springs; Nancy Morrow of Ottumwa, Iowa; Mick Hucks Jr. of Ottumwa; Kenny Hucks of Knoxville, Iowa; Sarah Gade of Big Rock, Ill.; Amber Thaggard of Altus, Okla.; and Bernie Willcut of Norman, Okla.; 16 great-grandchildren; two sisters, Helen of Malden, Mo. and Betty Allen of Clarkton, Mo. He was preceded in death by a son, Carl Willcut; a granddaughter, Heather Clark; and five brothers, Sam, Richard, Ronnie, Frank and Pete Willcut.
Services in Altus were under the direction of Kincannon Funeral Home.