Franklin Eldon Nielsen 1933 - 2007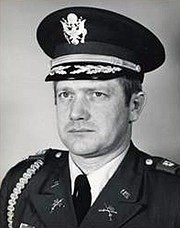 A private service for retired Brig. Gen. Franklin Eldon Nielsen, 74, Knoxville, Iowa, will be Saturday, Jan. 5, at Bybee & Davis Funeral Home in Knoxville. A committal service will be conducted and ashes interred at the Iowa Veterans Cemetery near Van Meter, Iowa, upon its anticipated opening on or about Memorial Day 2008.
Mr. Nielsen died Sunday, Dec. 30, 2007, while on his way to a daily medical appointment.
He was born on April 4, 1933, in Atlantic, Iowa, the son of Jens and Elise Jorgensen Nielsen, who immigrated to the United States from a small locality north of Aabybro, Denmark, in 1916.
Mr. Neilsen was educated in the Atlantic Community School system and graduated from Atlantic High School in 1951, where he was class treasurer. He later attended classes at Drake University. He was very active in high school activities, starring in track while throwing the discuss and shot-put, and serving as captain of the Atlantic Trojan football team, where he was selected to All Conference, All Southwest Iowa and All State football squads. He was also an accomplished bowler. Throughout his life he remained an ardent follower of University of Nebraska athletics and of the St. Louis Cardinals professional baseball team.
He enlisted in the Iowa Army National Guard on Dec. 8, 1947, while still a freshman in high school. He served for 38 years, rising in the enlisted ranks to master sergeant at age 23 before obtaining a commission as an infantry officer. He served in all three battalions of the 168th Infantry Regiment, and later served as the battalion commander of the 1-168th Infantry for a period of five years.
Among his other favorite assignments included serving as chief of staff for HQ STARC at Camp Dodge, Johnston, Iowa, and serving as commander of the Camp Dodge Training Site. His military education included the Infantry Officer Career Course at Fort Benning, Ga., the U.S. Army Command & General Staff Officer Course at Fort Leavenworth, and the Nuclear Weapons Employment Officer Course at Fort Huachuca, Ariz.
He was placed on the retired rolls of the Iowa Army National Guard as a brigadier general effective March 24, 1987. He was recalled to active duty on three occasions to act as commander in chief and serve as an area control umpire for a U.S. support team participating in military exercises on the Korean peninsula during 1989 and 1990.
Mr. Nielsen spent a large portion of his civilian life directing a construction company and working as a highly coveted home-builder in southwest Iowa and Omaha, Neb.
He married Frances Rohrich on July 1, 1955, in Atlantic, Iowa. They divorced in September 1970. He later married Cindy S. Haning on Dec. 10, 1983, and then resided twice in Knoxville, separated by a 13-year period in which they lived in Lansing.
Survivors include his wife of 24 years, Cindy S. (Haning) Nielsen; two sisters, Thelma McCrory, Olathe, and Agnes Saxton, Leon, Iowa; a brother, Dale, Johnston, Iowa; three sons, Thomas B., Urbandale, Iowa, Michael R., Leavenworth, and Charles G., Des Moines, Iowa; and four grandchildren.
Memorial messages may be posted online at bertrandfuneralhomes.com.
The family suggests memorials to the Special Olympics Iowa, 551 Dovetail Road, P.O. Box 620, Grimes, Iowa 50111-0620.