Olivia R Jackson 1987 - 2008 Leavenworth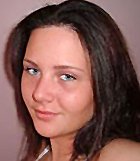 Services for Olivia R. Jackson, 20, Leavenworth, were Monday, Jan. 28, at Davis Funeral Chapel. Burial was in Mount Muncie Cemetery, Lansing.
Ms. Jackson died Tuesday, Jan. 22, 2008.
She was born Sept. 11, 1987, the daughter of Charles C. Jackson and Julie A. Collins.
Survivors include her father, Charles "Pete" C. Jackson and fiancee Jennifer Fante, Lansing; her mother, Julie A. Collins, and stepfather, Claude Collins, Leavenworth; a sister, Sarah M. Jackson, Leavenworth; a brother, Jerry F. Jackson, Lansing; maternal grandparents, Gerald Joanie Foster of Texas and Joyce Don Grammer, Lawrence; paternal grandmother, Leanne Jackson, Atherton, Mo.
The family has set up a memorial fund in Olivia Jackson's name at Citizens National Bank, 601 N. Main St., Lansing 66043.