Charles J. Berkel 1925 - 2013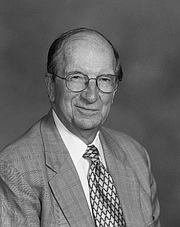 Charles J. Berkel, 88, Chairman of the Board and Founder of Berkel & Company, passed away November 4, 2013. Mr. Berkel was born May 10, 1925, in Muskegon, Mich., the third of six siblings born to Tena and Herman Berkel. He is preceded in death by his beloved wife, Antoinette "Toni" Berkel; his son, Dana Stephen Berkel; his brothers, Kenneth Berkel and Richard Berkel; and his sisters, Ruth Graves, Viola Hoeksema, Roberta Lorenz, and Hazel Whittaker. He is survived by his daughters, Glori Berkel of Mission, Kan., and Danielle (Keith) Uhrmacher, of Shawnee, Kan., and his son, Stephen (Siobhan) of Margate, Fla., and grandchildren Melinda Maples, and Zak, Tzana, and Natalia Berkel.
Mr. Berkel was proud to have held a job since the young age of 12. While in junior high, he worked as a paperboy for the Muskegon Chronicle. He graduated from Muskegon High School and enlisted in the Navy's V-12 program. He graduated from the University of Illinois in 1946 with a Bachelor of Science in Civil Engineering and was commissioned as an ensign—an officer—in the U.S. Navy.
After serving his country, Mr. Berkel began his career in deep foundation construction working for Intrusion-Prepakt in Chicago. During his employment there, he was the project engineer for the first commercial project supported on Auger Pressure Grouted Piles (APG) in the United States.
While working in Chicago, he met the love of this love, Antoinette "Toni" Strauss. They were wed in June of 1948.
Mr. Berkel was transferred to Kansas City in 1951. And, eight years later, he resigned from Prepakt. With Toni's assistance—and working out of the basement of their home—Mr. Berkel started his own company specializing in Pressure Grouting and the installation of Auger Pressure Grouted (APG) piles. From that beginning, Mr. Berkel grew Berkel & Co. into one of the largest piling contractors in the U.S., with six regional offices in addition to its national headquarters in Bonner Springs, Kan.
Mr. Berkel was a leader in the Kansas City community sharing his wisdom, his time, and his means, particularly with Catholic organizations and with those in need. He served on numerous boards including: the University of Saint Mary; Brotherhood Bank and Trust; Providence Hospital; St. Joseph Care Center; United Way of Wyandotte County; Wyandotte Mental Health; national, state and local chambers of commerce; Villa Saint Francis; and the National Agricultural Hall of Fame Center. Mr Berkel was also a member of the American Society of Civil Engineers, American Railway Bridge and Building Association, Sierra Club of Kansas City, Knights of Columbus, Knights of the Holy Sepulcher, Knights of Malta, and Sacred Heart Parish.
Throughout his career, Mr Berkel received numerous awards including Ernst & Young's Entrepreneur of the Year in 2008, the Deep Foundation Institute's 2007 Distinguished Service Award, and the Boy Scout District Recipient Award of Merit and Silver Beaver Award. In 2007, he was awarded an honorary doctorate of industrial science from the University of Saint Mary.
Mr. Berkel loved to work and wasn't sure what to do when he wasn't working. In many ways, his work defined him. He worked hard and generously shared the rewards of his efforts. He built a strong company based on integrity, loyalty and hard work. He has left his company in the hands of his faithful employees, many of whom were like family to him.
The family will receive visitors and friends Thursday, Nov. 7, from 5 p.m. to 7:30 p. m. at Sacred Heart Catholic Church in Shawnee, Kan., with the Rosary at 7:30 p.m. The Mass of Christian Burial will be celebrated Friday, Nov. 8, 2013, at 10:30 a.m. at Sacred Heart Catholic Church. Interment will follow at the Resurrection Cemetery, Lenexa, Kan.
In lieu of flowers, the family suggests donations in Mr. Berkel' s name to the University of Saint Mary, Leavenworth, Kan., the Sister Servants of Mary, Kansas City, Kan., or Sacred Heart Church.
Arrangements Alden-Harrington Funeral Home 913-422-4074 aldenharrington.com
Please sign this guestbook at Obituaries.LJWorld.com.