Phillip Leon Martinek 1923 - 2013 Springfield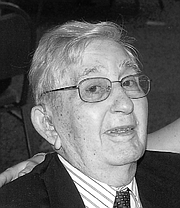 Phillip "Phil" Leon Martinek, 89, of Springfield, died at 3:48 pm, Sunday, November 3, 2013 at Regency Nursing Care Residence. He was born December 18, 1923 in Kansas City, Kansas to Harley L. and Evelyn Marie Shaw Martinek, and they preceded him in death. He married Charlotte Butler Mathis in 1953 and she preceded him in death in 1979. He married Lucille C. Black Allen in 1980 and she survives.
Also surviving are two step-sons, George Mathis of Las Vegas, NV and Charles "Chuck" R. (Lynn) Allen of Springfield; one sister, Norma Jean Palmer of Bonner Springs, KS; several grandchildren and great grandchildren and several nieces and nephews.
Phillip grew up in Bonner Springs, KS, and graduated from Bonner Springs High School in 1941. He attended Kansas University.
He was a U.S. Navy Veteran serving in World War II from March 30, 1943 – April 3, 1946 and also during the Korean War for July 21, 1950 to October 27, 1951.
Phil was a member of First Christian Church, Disciples of Christ and served as a church elder, moderator, and trustee, he also sang in the choir.
He worked for Aetna Insurance Company for over 30 years and retired in July 1982. He then worked for First Financial Insurance for eight years and retired again, but remained as a Board of Director until early 2013.
He was a former member and past president of the Springfield Golden K Kiwanis; and was a member of the Lincolnland Stroke Support Network and a member of the Springfield Camera Club.
He served as a "Red Coat" and volunteered for Memorial Hospital for 24 years. He bowled for several years on many bowling leagues. He loved to fish at his vacation home on Lake Petersburg.
Phil loved to travel. He, with the help of his wife, Lucille, presented many programs at the Illinois State Museum on their world travels.
Visitation: 10-11:30 am, Thursday, November 7, 2013 at First Christian Church, 700 South 6th Street, Springfield.
Funeral Service: 11:30 am, Thursday, November 7, 2013 at First Christian Church, 700 South 6th Street, Springfield, with Pastor Rick Irwin officiating. Burial will follow at Camp Butler National Cemetery, where the Sangamon County Interveterans Burial Detail will conduct Military Honors.
Memorial contributions may be made to First Christian Church, 700 South 6th Street, Springfield, IL 62703 or to the Lincolnland Stroke Support Network, 3233 Mathes Road, Springfield, IL 62711.
Share stories, pictures, Facebook and Twitter at:
StaabObituary.com
Please sign this guestbook at Obituaries.LJWorld.com.