John T. Wise 1942 - 2013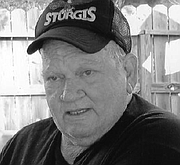 John Thomas Wise was born on June 29, 1942 in Nacogdoches, Texas and passed away on Saturday September 7, 2013 in Conroe, Texas at the age of 71. He was preceded in death by his parents Thomas Alvin and Auby Annie Lee Green Wise. He served his country in the US Army during the time the Vietnam War was taking place. John was a former resident of Kansas for many years, a Supervisor at the Lone Star Cement Company, and he retired as a Correctional Officer for the State of Texas. He is survived by his loving wife of 46 years, Wanda Fay Wise of Conroe, Texas, by his daughters: Sherri Lynn Hudson and husband Scott Patrick of Independence, Missouri, and Tammie Fay Lee Wise of Conroe, Texas, by his sister Frances Lee Brooks, and his precious grandchildren: Chelsi Lynn Wise, John Connor Wise, Cooper Scott Hudson, and Tyler Allen Wise. Visitation was at Cashner Funeral Home on Thursday September 12, 2013 at 11:30am. Funeral Service was held in the Cashner Colonial Chapel on Thursday September 12, 2013 at 12:30pm with Bro. Merle Blado as minister. Burial followed in the Garden Park Cemetery. Pallbearers for the service will include: Tiger Brooks, Chip Nance, Bruce Nance, Brandon Nance, Larry Granger, Mike Granger, Jason Granger, and Scott Hudson. Visit our website at www.cashnerconroe.com
Please sign this guestbook at Obituaries.LJWorld.com.