Shawn Laurion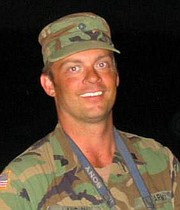 Shawn Laurion, 44, passed away Monday, October 26, 2015, while training on the beach with his US Army Reserves unit at Fort Story Naval Base in Virginia Beach, Virginia. Visitation was held, Monday, November 2, 2015, at Murdoch-Linwood Funeral Home, Cedar Rapids. Service was held Tuesday, November 3, 2015. Burial: Troy Mills Cemetery, where military rites will be performed.
Sgt. Emmanual Shawn Laurion was born on March 14, 1971, in Pensacola, Florida, son of Craig and Phyllis Laurion. He married his best friend, Tija Thomas, on June 8, 1996, in Cedar Rapids, Iowa. Shawn worked as a vending technician for Dr. Pepper Snapple, Inc. and honorably served in the Army Reserves for nearly thirteen years. Shawn loved spending time with his beautiful wife, family and friends. He was extremely proud of his children and adored his granddaughters. He loved photography, geocaching, fishing, hiking, and repairing bikes for kids. He enjoyed playing his guitar and piano, and also loved to sing. Shawn was a friend to all and took time to show how he cared about others. He taught us all how to be a good friend. He was proud to lead his squad and loved his military family.
Survivors include his wife, Tija; children, Brittany Haas (Amanda Thurman) and Dustin Montgomery (Elise Carter); granddaughters, Charlotte LaRue and Elizabeth Drew Montgomery; parents, Craig and Phyllis Laurion of Bonner Springs, Kansas; sister, Katie MacDonald; brother, Eric Laurion; father and mother in-law, Larry and Esther Thomas; sister in-laws, Ny-Oka (Brett) Sokol, Junoa Thomas (Scott Steffes), and Gara (Robert) Small; eight nieces and nephews.
He was preceded in death by his brother, Ryan Laurion; uncle, Glen Laurion; maternal grandparents, L.J. and Carol McBride, Walter and Gladys Hoskins; paternal grandparents Ervin and Gayle Laurion; step-daughter, Meagan Montgomery; and Shawn's dog, Cookieschnookiewookie lookie.
In lieu of flowers, a memorial fund has been established which will be used to help homeless veterans.
Please share a memory of Shawn at www.murdochfuneralhome.com under obituaries.