Sherry Lynn Tyner-Groves 1955 - 2015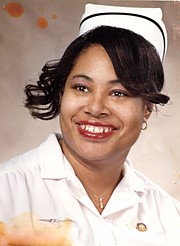 Sherry Lynn Tyner-Groves, age 60, of Bonner Springs, Kansas passed away on September 24th, 2015. Funeral Services will be Noon, Saturday Oct. 3rd, at the Alden-Harrington Funeral Home. The family will receive friends at a visitation from 10-Noon prior to the service also at the funeral home. At a later date, private burial will be in the Edwardsville Cemetery.
Sherry was born on February 4th, 1955 in Shreveport, LA. And was the fourth of nine children born to Charles & Elouise Tyner. She was untied in marriage to Sherman "Tank" Lionel Groves, Sr. on August 9th, 1975. Sherry graduated with honors from Kansas City Kansas Community College with a degree in Nursing. She went on to work as a RN for the Bonner Springs School District – Headstart program and later worked in many Nursing Homes and Hospitals in the area. Sherry was known for her kind heart and contagious smile, and opening her home to family, friends and anyone in need. She was preceded in death by her parents, her loving husband "Tank" and two brother-in-law's; Robert "Butch" Foster and Clinton E. Taylor. Survivors include; one daughter Stephanie Laree Groves of Bonner Springs, KS., one son Sherman Lionel Groves, II and his wife Amy, of the home. Eight siblings; Carolyn Ann Jackson (Theory)-KS., Charles Eugene Tyner (Ernestine)-LA., Beverly Tyner-Foster-KS., Melvin Lee Tyner-LA., Robin Elaine Taylor-KS., Marvin George Brakefield (Nicole)-LA., Ed Dupree Anderson (Angela)-LA., Bruce Tyrone Tyner (Renee)-KS., three special friends; Ruthie Tyner-LA., Joyce Jackson-KS., Judy Turner-KS., Eugene Lemons-LA., four grandchildren; Dominic Majestic Groves, Demarcus Santana Groves, Nevaeh Riann Groves and King Sherman Groves. As well as several nieces, nephews, extended family and friends.