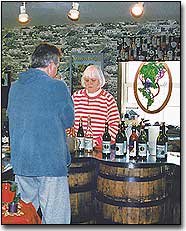 A customer visits the winery gift shop. Holy-Field Vineyard and
Winery has won numerous international awards and medals for
winemaking. Part-owner Les Meyer said Kansas is not a hard place to
produce grapes. "Grapes are real versatile. The only place a grape
won't grow is in a swamp," Les said.