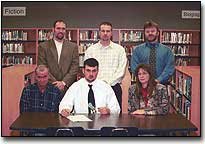 BRANDON LASLEY (center, front row) signed a letter of intent
Tuesday to play baseball at Allen County Communiity College. Lasley
is flanked by his parents, Edward and Debbie. Also present at the
signing were (back row, left to right) Allen County assistant coach
Erick Wright, Bobcat coach Kevin Suther and B-L athletic director
Joe Keeler.