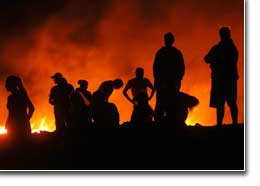 A giant bonfire to kick off a rally for homecoming weekend glows
against the nighttime sky as students and faculty wait in the
warmth of the scene. This was the first year a bonfire was part of
the annual homecoming festivities. For more on the festivities, see
page 14A. For the homecoming football game results, see page 1B.