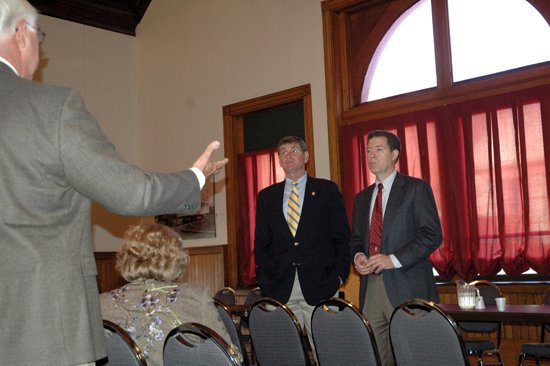 Leavenworth Police Chief Lee Doehring, left, makes a point to U.S. Rep. Jim Ryun and U.S. Sen. Sam Brownback about area law enforcement's willingness to work with prison officials. Ryun and Brownback were in Leavenworth on Tuesday to help community officials with their efforts to lure a new federal maximum-security prison to Leavenworth.
Stories this photo appears in:
U.S. Sen. Sam Brownback and U.S. Rep. Jim Ryun, both Kansas Republicans, visited the United States Penitentiary in Leavenworth on Tuesday, Oct. 31, and then met with a group of community leaders about how to best lobby officials at the federal Bureau of Prisons for a new prison.