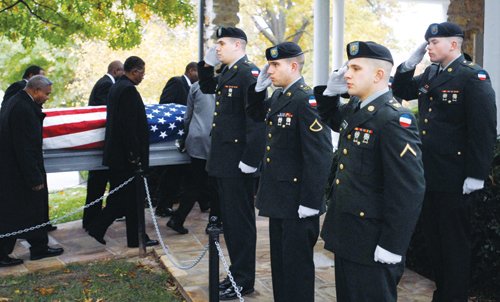 Fort Leavenworth honor guards, from center, Pfc. Jon Westall, Pfc. David Tulette, Pvt. Sven Johnson and Pvt. Derek Stephansen-Fitzgerald present arms as pall bearers carry the casket of World War II veteran Leon Holmes into the Committal Shelter at Fort Leavenworth National Cemetery. Two units at the fort provide honor guard services for veterans.
Stories this photo appears in:
Units at fort heed the call at funerals
It doesn't have to be Veterans Day for a few Fort Leavenworth soldiers to pay formal, special recognition to veterans; it's an almost-daily occurrence.