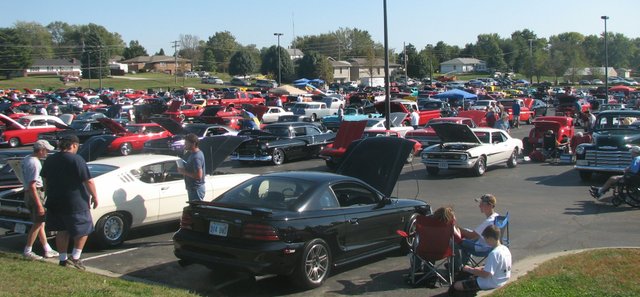 Cars, trucks, motorcycles and lawn chairs pack the Basehor-Linwood High School parking lot Saturday for the 13th annual Basehor Car Show. The event, a fundraiser for the high school's Project Graduation, drew a record crowd of 488 entrants.
Stories this photo appears in:

Anyone wanting to get nostalgic about a hot rod they had in high school or yearning to see a classic car up close should pay a weekend visit to Basehor-Linwood High School. The 17th annual Basehor Car Show will start with registration from 8 a.m.-noon Saturday at the high school parking lot, 2108 N. 155th St. in Basehor.
September 24, 2014 1:24 p.m.

The annual Basehor Car Show will be held Saturday, Sept. 29, at Basehor-Linwood High School.

Automobile aficionados may argue about which model year was the best for the Ford Mustang or the Dodge Challenger, but there's no debate that the 2010 edition of the Basehor Car Show was the biggest yet.
October 14, 2010 midnight