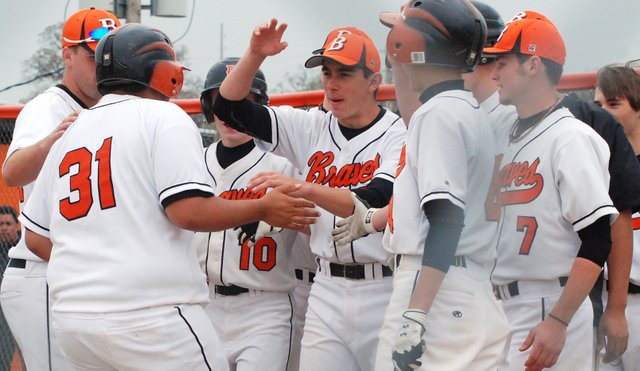 Gonzalo Pichardo (31) is congratulated by his teammates after smashing a two-run home run during the Braves' doubleheader sweep of Eudora on Monday.
Stories this photo appears in:

With one of his former teammates, Shawn Jones, out with medical problems, recent Bonner Springs graduate Gonzalo Pichardo looked to find a chance at the next level at the KCK RBI Showcase on Saturday at CommunityAmerica Ballpark.

Two Bonner Springs graduates are looking for opportunities to move on to the next level of their baseball careers.

Offense has been limited for the Bonner Springs High School baseball team so far this season, so when Dalton Vitt was given an early lead against Eudora, he took advantage of it.
April 21, 2011 12:02 a.m.