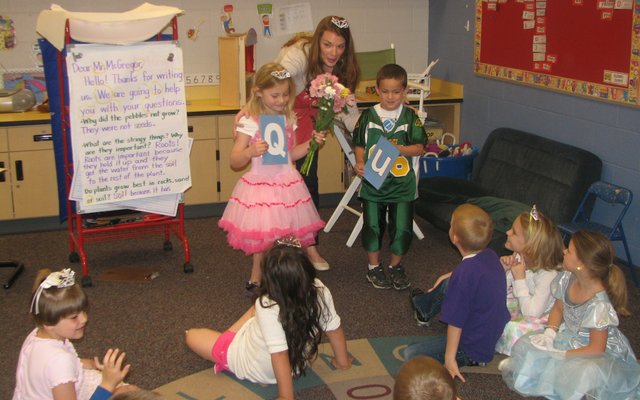 Glenwood Ridge Elementary School kindergarten teacher Allison Budimlija announces "Q" and "U" (Chloe Siefkas and Tegory Gray) as a wedded pair Friday morning in her classroom. A reception followed, during which students enjoyed a British-style tea with iced tea and cupcakes. Six of 17 students said they liked the taste of tea after sampling it.
Stories this photo appears in:

Glenwood Ridge kindergartners stage 'Q and U' wedding
The bride, dressed in a pink dress and a tiara, walked down the aisle toward the groom, who wore a Basehor-Linwood Bobcats football uniform.

The scene, though markedly different from the one in London watched by hundreds of millions several hours earlier, was the answer to Great Britain's royal wedding from Allison Budimlija's kindergarten class at Glenwood Ridge Elementary School on Friday.