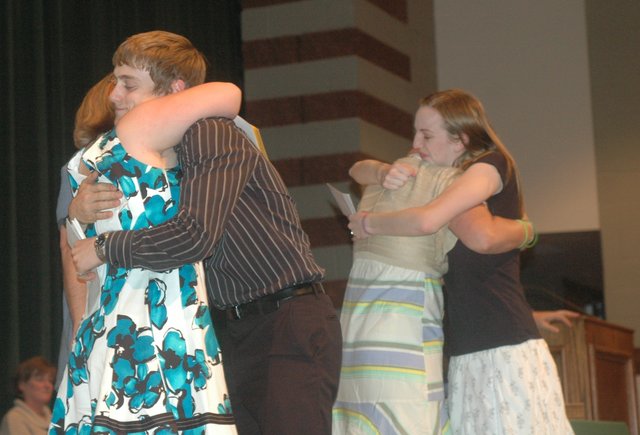 In the Basehor-Linwood High School auditorium April 25, Russell Clark and Sarah Hopkins hug Amber (left) and Vera Gaffney, the younger sister and mother of Joshua Gaffney, who died in a car accident in 2008 as a Basehor-Linwood Middle School eighth-grader. Clark and Hopkins were the 2012 winners of a scholarship set up by the family in Joshua's memory. Joshua would have been a member of the BLHS 2012 graduating class along with them.
Stories this photo appears in:

Student after student walked across the stage upon receiving an award or scholarship at Basehor-Linwood High School on Wednesday night, each one exchanging the obligatory handshakes with dignitaries. But when BLHS senior Russell Clark walked up to Vera Gaffney, he didn't shake her hand.
April 26, 2012 11:45 a.m.