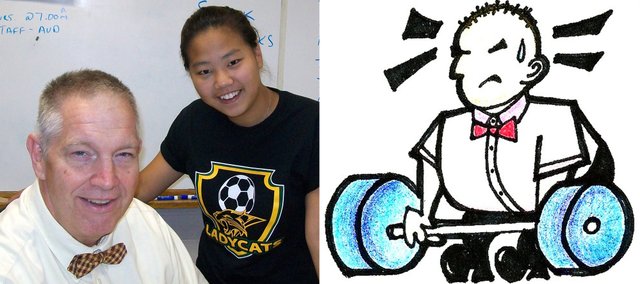 Tim Johnson and Mi-Ji Lee, a U.S. history teacher and an exchange student from South Korea at Basehor-Linwood High School, teamed up this year to release a children's book intended to teach kids about the benefits of weightlifting, simply titled "Powerlifting." Johnson, also an assistant powerlifting coach at BLHS, wrote the words, and Lee provided illustrations. Lee included Johnson's trademark bow tie in a caricature (on the right) that appears on the book's cover.
Stories this photo appears in:

Teacher and coach Tim Johnson needed a way to make weightlifting seem fun and interesting to 9-, 10- and 11-year-olds. He found his answer in an unexpected place this spring: a South Korean exchange student from whom he'd hardly heard a word all year.