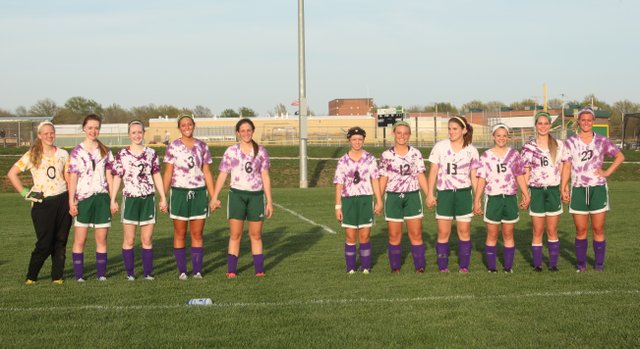 The Basehor-Linwood girls soccer team donned purple tie-dyed jerseys for Monday's game against Mill Valley. The Bobcats wore the jerseys to remember freshman Shealynn Hayes, who passed away last week. After the game, the starting lineup gathered, saving a spot for Hayes. Pictured, from left to right: Sophomore Brianne Kennedy, freshman Courtney Robinson, junior Hailey Robinson, freshman Nicole Rutherford, sophomore Megan Sixta, senior Jordan Nirschl, junior Ally Laney, sophomore Raeney Seaton, sophomore Julie Lough and senior Kara Stephens.
Stories this photo appears in:

There were wins and losses, memories made and lumps taken. The season has already given way to summer. Fall is on the minds of some and winter pursuits like basketball and wrestling on the minds of still others. But before the memory of spring 2013 recedes for good, let's take one last look back.