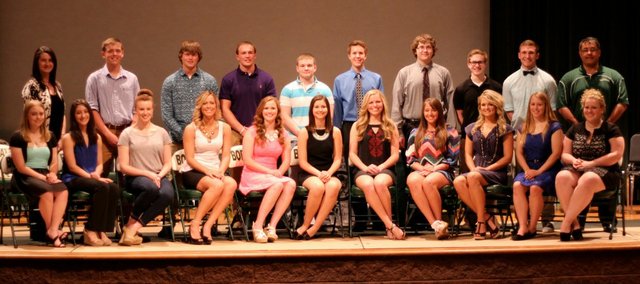 BLEF Scholarship Recipients front row: Katie Tindell, Angelina Harrison, Shelby Wicker, Amber Garver, Sara Rehm, Emily Dye, Allison Heinen, Kayleigh Schoenfelder, Courtney Payne, Kathleen Eberth, Rachel Kamm. Back row: BLEF Vice-President Lori Van Fleet, Reece McDowell, Jacob Merrick, Jacob Phillips, Stephan Struzzo, Alexander Coleman, Jack McCraney, Eric Purrington, Cory McCleary and BLEF President Dave Gunn. Recipients not pictured: Anthony Drury and Avery Fliger.
Stories this photo appears in:

Students and their families gathered at the Basehor-Linwood High School auditorium Wednesday night to celebrate the academic and extra-cirricular success of students awarded scholarships in this year's Acadamic Awards night.