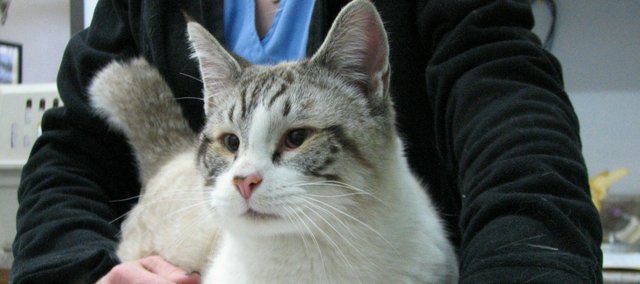 This 18-month old male cat was found Wednesday night off Hollingsworth Road. The family who found him are looking for his owner or a family able to adopt him.
Stories this photo appears in:

It only took a couple of seconds for the cat to nuzzle its head into his new owner. Jeannette Mercier of McLouth held the cat she immediately dubbed Mr. Magoo, after the old cartoon. Mr. Magoo was found near Jim and Karen Oberg's house in Basehor two weeks ago, when high temperatures barely reached the teens. His eyes were clogged with gunk, and he seemed to be visually impaired.

Kristie Warhurst, along with her sister Jamie Oberg and their parents, are trying to find the owner of a stray cat, or a family that could adopt him.