Sara Shepherd Lawrence Journal-World reporter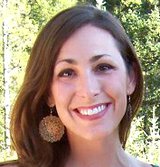 Sara Shepherd is the Lawrence Journal-World's features reporter, covering food, arts, lifestyle and culture. Prior to joining the Journal-World staff, Sara was the news editor and city reporter for The Shawnee Dispatch. She also was a reporter at The Kansas City Star, covering primarily crime and courts, as well as Johnson County schools and city government. Sara is an Emporia, Kan., native and — proud! — fourth-generation Kansas University graduate. Follow her on Twitter at twitter.com/KCSSara.
Recent stories
December 12, 2012
Decadent treats are common fare for many holiday celebrations. In Jewish culture there's a religious reason behind this — at least during Hanukkah.
October 24, 2012
These cookie bars have mini pretzels and white chocolate chunks in the cookie dough. The Nutella is scooped straight out of the jar and sandwiched safely between layers of dough.
October 15, 2012
Animal brains, glands, tails, intestines, feet and other organs are nothing new at many ethnic eateries. But the oft-spurned meat parts known as offal have made their way into some of the area's hippest mainstream restaurants, where chefs say foodies and more timid diners alike seem to be nibbling.
October 3, 2012
Buzzing bees blanket the tray of honeycomb in Richard Bean's bare hands. At close range, their striped abdomens and delicate wings are visible in detail. After 40 years of keeping bees, Bean still marvels at them.
September 26, 2012
Little-known fact: Even though your wine came from a Kansas winery doesn't necessarily mean it has many — or any — Kansas grapes in it.
September 14, 2012
Truebud

BBQ

teammates Tim Grant of Tonganoxie and Boyd Abts of Eudora announced this week they'll be one of three Kansas City area teams appearing on Season 4 of

BBQ

Pitmasters.
September 12, 2012
Two Sisters Farm is the only commercial farm in the area specializing in hydroponics, or soilless growing, and their lettuce has been catching on around Lawrence and Johnson County since their first harvest this spring.
August 29, 2012
For Truebud

BBQ

team members, meticulousness is as much their signature as their secret rib seasoning, and it's helped propel them to the elite ranks of the country's top competition barbecue teams.
August 22, 2012
Apples may be early this year, but there's no reason to rush these fall favorites into their signature cool-weather dishes. Chilled desserts and bright ingredients help bring apples out of autumn and into the light lunches, cookouts and 90-degree days of August.
August 22, 2012
With many buyers just beginning to realize it's apple time, Ernie Richardson's Gala crop has already come and gone. Following the lead of early summer stone fruits and most other produce this year, northeast Kansas apples are arriving one to four weeks early. The size and quality of early crops also varies.
Recent photos