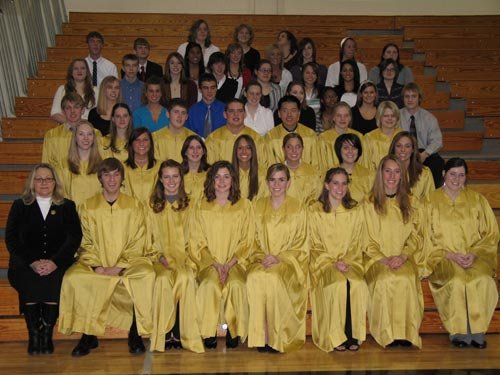 A total of 27 new members were inducted into the National Honor Society at Lansing High School during a ceremony Thursday, Jan. 11, at the LHS gym.
New members, without robes, are Lauren Anderson, Jacob Boorem, Megan Buehler, Kyle Buehler, Christine Cordes, Griffin Davis, Rita Edmonds, Lauren Elkins, Jenna Gnip, Eric Hansen, Jasmine Holland, Kristen Huffman, Maria Jackson, Lauren Judy, Emily Kidder, Hal Laurence, Jerrica Lock, Sara Logan, Kate Mock, Alexandra Mosley, Michael Nielsen, Rachel Pride, Sarah Sargent, Liane Swisher, Alexandria Tremble, Kaitlyn White and Christen Yaw.
Active members, in robes, are Amanda Andrews, Jessica Bradford, Elizabeth Cristiano (vice president), Kate Courtney, Stephanie Eckert, Geoffry Fowles, Natalie Hall (activities director), Abby Hauver (secretary), Kristen Kirby, Tang Lin, Mary Lyon, Bianca Manago (president), Nate Markovetz (academic coach), Adam New, Miranda Nichols, Justine Patton, Kara Ritchey, Heather Schwind, Holly Schwind, Lauren Summers, Brittany Swisher (treasurer) and Peter Willcott.
Mary Alice Schroeger is the NHS faculty sponsor.