Mill Valley-Miege Football Preview, Part I: Soft schedule behind them, Jaguars seek to prove 5A title credentials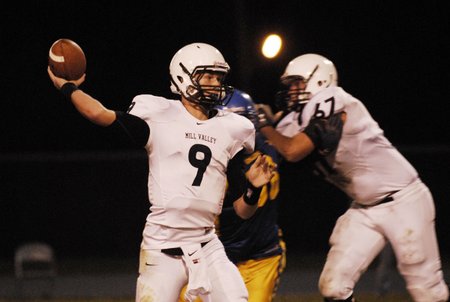 If you hadn't watched Mill Valley football this year, you may have had a hard time noticing that the Jaguars have won eight straight to close the regular season, outscoring opponents 450-117 en route to last Friday's district title.
In most 5A rankings, The Jaguars have largely been left out of the discussion of the top team in their class. Perhaps that speaks more to the level of competition at 5A: Wichita's Bishop Carroll (9-0) has occupied the top spot in most polls all year followed by, in varying order, St. Thomas Aquinas (8-1), Emporia (8-1), Salina South (8-1) and Hays (7-2). Blue Valley West (7-2) has also been in the discussion.
Another factor in coaches and pundits slighting the Jaguars — at least in regular season rankings — is we haven't really had much of a chance to see how the Jaguars take a punch. A 42-21 loss at Class 6A Manhattan to start the season remains the only example of the Jaguars being tested for all four quarters. That example itself is a bit dated, being an Aug. 31 season opener.
Mill Valley will host Bishop Miege (4-5) at 7 p.m. Friday in the opening round of the 5A playoffs. The Stags' record is somewhat deceiving, at least in terms of indicating quality. Miege is led by quarterback Montell Cozart — the Kansas Gatorade Player of the Year in 2011 and a Kansas University commit. Since losing four straight from mid-September to early-October, the Stags won two of their last three by a combined score of 108-13 to advance to the playoffs.
Need further evidence that the jury is still out on the Jaguars in the eyes of Kansas writers? While the Topeka Capital-Journal's computerized picks system has Mill Valley as 6.3-point favorites Friday, Brett Maycock disagreed with the pick, instead forecasting an upset by the Stags.
In recent years, Mill Valley, one of the top-10 largest 5A schools, has openly expressed a desire to depart the Kaw Valley League for the larger-class laden Sunflower League or East Kansas League. A look at the Jaguars' 2012 schedule tells a lot of the story. The Jaguars played four of their nine regular season games against Class 4A foes, winning by an average score of 52-9. After defeating fellow KVL and Class 5A school Turner, 56-7, in their home opener, Mill Valley had to wait until Oct. 12's district opener at Schlagle to see another 5A school. The outcome against 5A schools was the same, with most games out of reach by halftime and senior passing wizard Skyler Windmiller taking at least the quarter off of all eight of the Jaguars' victories.
But few, if any, of the Jaguars' 5A opponents could prepare them for the field that awaits in this year's state bracket. This may be where Miege holds an advantage entering Friday night. Mill Valley's four 5A foes finished the regular season with a combined 16-20 record (.444). Miege, meanwhile, has already seen the likes of 5A playoff teams Blue Valley, Blue Valley West, St. Thomas Aquinas. The Stags went 0-3 against those teams, dropping a narrow 41-36 game to BV West on Oct. 4 and an even narrower regular season finale loss to Aquinas, 27-24, last week.
Bishop Miege also matched up with recent 6A convert Gardner-Edgerton, winning 37-20 on Sept. 7 in a victory that has become more impressive each week (Gardner-Edgerton has won five straight, including a 34-20 victory against defending 6A champion Olathe South on Oct. 12 en route to making the playoffs in its first season at 6A).
Mill Valley's strength of schedule pales in comparison to that of Miege. That said, working with what it can control, the Jaguars have absolutely taken care of business this season. Their most impressive victories being a 56-7 win against Turner on Sept. 7 and a 77-33 victory against Lansing to win the district title last week. But who am I kidding? On paper, at least numbers-wise, all of Mill Valley's victories have been impressive. In the emphasis with which they've dispatched their opponents this season, the Jaguars have broadcasted that they have more than enough tools to match up with their 5A playoff peers.
Still, Mill Valley's dominance makes it difficult to compare the two, chief among those challenges being that we just simply haven't seen Mill Valley's starters play four quarters against a comparable team since August.
A win on Friday to advance the Jaguars to the second round for the first time since 2008 can go a long way toward gaining the attention of the rest of the state. A loss should hasten the discussion of when, not if, the school departs for a league that gives their sports schedules better suited for preparing them to punctuate record-breaking seasons with trophies.
Stay tuned for part two of my Mill Valley vs. Bishop Miege preview, and visit shawneedispatch.com Friday for live coverage of the game.