Mill Valley-Miege Football Preview, Part
II

: Will we see starters play all four quarters?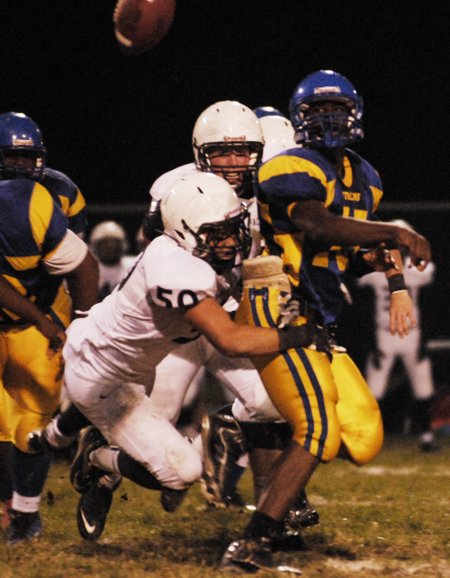 A quick look at Miege:
The Stags are averaging 31.9 points per game compared to Mill Valley's 52.3. Miege allows 20 points per game on defense. Mill Valley has limited opponents to single digits four times this year.
Miege's four victories are against Turner (5-4), Blue Valley North (2-7), Gardner-Edgerton (6-3) and Harmon (0-9). Meanwhile, the Stags fell on hard times with a four-game skid earlier this year against Blue Valley Northwest (4-5), Blue Valley (5-4), Blue Valley Southwest (5-4) and Blue Valley West (7-2). The Stags have scored style points in victory, winning by an average margin of 34.75 points, a figure no doubt skewed by their Oct. 19 68-6 victory against the winless Harmon.
In defeat, the Stags have dropped four of five by a one-score margin, coming up an average of 6.8 points short. These two trends, taken together, produce the following stat: Bishop Miege is 0-4 in games decided by seven points or less. Meanwhile, Mill Valley has yet to play a game decided by seven points or less through its nine games…so, you're guess is as good as mine.
Miege has fared slightly better on the road than at home, going 2-2. Mill Valley is undefeated at home at 5-0.
•••
One of the Dispatch's contributing writers, Charles Redfield, has seen his share of Johnson County football. Working at the Johnson County Sun for years and stringing for the Kansas City Star has allowed Redfield to take a look at some of the abovementioned teams in question. He weighed in recently with the following observations:
Not an easy draw for Mill Valley. Miege is not a 4-5 team. Their QB is good, but they don't really have a great rushing attack. Cozart throws the long pass better than the short pass. The defense has given up a lot of points against good teams.
•••
For the season, Windmiller has completed 60.3 percent of his passes for 1,955 yards and 28 touchdowns with seven interceptions. Windmiller is also one of three Jaguars to rush for more than 500 yards, carrying 78 times for 511 yards (6.55 per carry) and seven scores. In a 47-6 victory against Basehor-Linwood on Sept. 14, Windmiller rushed 20 times for 157 yards and four touchdowns.
Despite not finishing any of his team's eight victories, Windmiller has thrown for a career-high 28 scores, up from 25 in 2011 and 21 in 2010. Windmiller has never thrown more than nine interceptions in one season.
Mill Valley's rushing attack is led by a resurgent senior Kendall Short, who recovered from an early-season injury to rush for 521 yards on 77 carries (6.77 per carry) and eight touchdowns, while adding seven receptions for 191 yards and four touchdowns.
Here's some trivia: The Jaguars' top rusher is freshman backup quarterback Logan Koch, who has spelled Windmiller in each of the Jaguars' blowouts. Koch leads the team with 535 yards on 68 carries (a team-high 7.87 yards per carry) and six touchdowns. Unless the Jaguars have a surprise formation on tap, however, we may not see much of Koch in the playoffs.
All season, Windmiller's favorite targets have been L.J. Hatch (37/813/12) and Staton Rebeck (34/454/8). The duo have also done damage in special teams. Rebeck averages more than 26 yards per punt return, with a long of 88. Hatch, meanwhile, averages 44 yards per kickoff return with a long of 85. Rebeck has also taken sic kickoff returns, averaging more than 32 yards per return with a long of 53.
Defensively, Mill Valley has three players with 68 tackles or more: T.J. Phillips (88), Blake Miles (71) and Micah Clarke (68). The Jaguars have intercepted opponents 12 times this year and have recorded 11 fumble recoveries. Senior defensive lineman Tim Thomas leads Mill Valley with eight sacks.
What's not on the stat sheet is the versatility of the Jaguars' offensive line, filling in for the injured Coleman McCann, who sat out the second half of the season. Adam Swearingen, Knute Holden and Evan Applegate have been among those to step up, but Swearingen got banged up against Schlagle last month.